De ontwikkeling van 3D printen gaat gestaag door. Een paar jaar geleden werden de horizontale bewegingen van de extruder ook al gedaan door een systeem van motoren en aandrijfriemen, maar op een heel andere wijze dan nu. De motor voor de beweging in "Y" richting, dus dwars op de voorzijde van de printer, bewoog een arm, waarop de tweede motor, voor de "X"-richting, was gemonteerd. De massa die de motor voor de Y richting moest voortbewegen was dus veel groter dan die voor de X richting. Dat zorgde voor inconsistenties in de print, maar vooral ook voor een lagere maximale snelheid. Die werd dus beperkt door wat de "Y motor" aankon.
Een grote verbetering kwam door de introductie van het "CoreXY" systeem. Door een ingenieuze loop van de aandrijfriemen was het mogelijk om de twee motoren op het frame zelf te bevestigen. Daardoor zijn de belasting van de X en Y motor even groot geworden en kan er optimaal gebruik gemaakt worden van het vermogen van de motoren.
Een actief lid van de Craftbot gemeenschap heeft een prachtige ruimtelijke tekening gemaakt van het verloop van de aandrijfriemen. Met zijn toestemming geven we het hier weer. Mocht u ooit de aandrijfriemen (oftewel "timing belts") Moeten vervangen, dan heeft u een referentie. De CraftBot gebruikt 2.5mm pitch belts, die algemeen verkrijgbaar zijn. Uiteraard hebben wij ze ook beschikbaar.
Incidenteel gebeurde het dat de metalen plaatjes -die op de extruder de timing belt inklemmen- naar verloop van tijd de belts als het ware afsneden. Soms was er voldoende marge om ze nog net te kunnen bevestigen, maar beter is het ze te vervangen en de metalen plaatjes te ontscherpen. Bij de laatste series CraftBots zijn we het probleem niet meer tegengekomen.
It's invented by Ilan E. Moyer and explained on this website.
Principle of Operation
| | |
| --- | --- |
| This is a standard drafting table. The horizontal bar is a straight-edge which can be moved up and down by the user. The criss-cross pattern of the cables stabilizes the bar and keeps it horizontal. | This effect can be seen by following the direction of motion of the two cables which comprise the mechanism. Note that all of the vertical arrows point in the same direction. |
| You could imagine attaching a stepper motor to one of the pulleys. Now, the horizontal bar can be moved up and down under computer control. This might be called a single-axis CNC stage. | How might we modify this mechanism to convert it into a two-axis CNC stage? The illustrated mechanism above is one solution. Rotating both motors in the same direction results in horizontal motion. Rotating both motors in opposite directions results in vertical motion. |
Reference Mechanism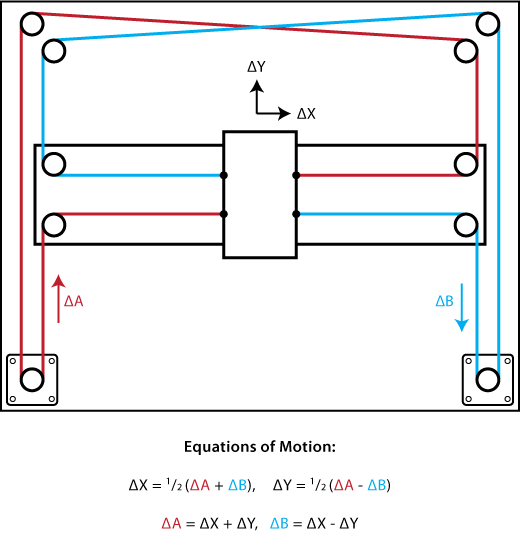 This reference mechanism is functionally identical to the last figure in the prior section. Two additional pulleys have been added to shift the belt cross-over outside of the working envelope.